Election 2021: Early Voting Begins in Virginia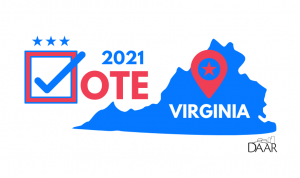 As early voting kicks off in the commonwealth, DAAR encourages all eligible residents to register and cast their ballots in this cycle's primary election.
As of Friday, April 23rd, 2021, residents of the commonwealth may cast their ballots early for the statewide and local elections. Early voting will remain open until the 5th of June, and residents who wish to vote from home may do so by requesting their absentee ballots.
Some voting locations in Loudoun County are now open (with many COVID-19 protocols from 2020's cycle still in place). The county government offers a list of these locations, as well as a before-you-vote check list, on their website. Voter registration information can also be found on the site.  
The Virginia GOP has decided to conduct their own primary process for statewide office, so there will not be a Republican primary for Governor, Lt. Governor, or Attorney General as of now. Virginia Democrats will be having a standard primary election for their statewide office seekers. Since Virginia is an open primary state, eligible residents may participate in whichever party's primary they choose, but they may not vote in more than one primary.
 Many of the candidates' profiles can be found posted online. Most of these resources will offer links to each individual candidate's campaign website, so voters may check out their respective policy platforms. Virginia's Department of Elections offers a list of candidate names that will appear on the ballot as well. 
Virginia REALTORS® has not officially endorsed any candidate for statewide office at this time. Updates to come.
Finally, regardless of party affiliation, it is important that everyone has a plan to vote. While many may not feel comfortable voting in person given the circumstances of the pandemic, there are a few alternative methods for folks to fill out/drop off their ballots. Some of these alternatives are listed below with deadlines to keep in mind (information directly from Virginia's Department of Elections):
Friday, April 23, 2021: First day of in-person absentee voting at your local registrar's office.
Monday, May 17, 2021: Deadline to register to vote, or update an existing registration.
Friday, May 28, 2021: Deadline to request an absentee ballot to be mailed to you.

Your request must be received by your Registrar by 5:00 p.m.

Saturday, June 5, 2021: Last day of in-person absentee voting at your local registrar's office (by 5:00 PM).

Emergency Absentee Voting: Voters who miss the deadline to vote by mail may be eligible to cast an emergency ballot for one or more of the following reasons:

You were hospitalized or faced illness; 

Your child, parent, and/or spouse were hospitalized or faced illness;

Death of a loved one; or

Another emergency found to justify receipt of an emergency absentee ballot.

Military and Overseas Absentee Voting: If you are an absent uniformed-service or overseas citizen, and you do not receive your absentee ballot before the corresponding deadline, you are eligible to request a Federal Write-in Absentee Ballot (FWAB). Fore more information, please

click here.
For questions about the status of your absentee ballot, please contact your General Registrar. For questions, reach out to DAAR's Government Affairs Director. 
April 26, 2021