DAAR Membership Dues Invoice Available for Payment
Your 2021-2022 DAAR REALTOR® dues invoice is now available for payment in your DAAR member portal.  This invoice includes Local, State, and National membership dues for DAAR, VAR, and NAR.
Your local, DAAR REALTOR® dues pay for your membership beginning July 1, 2021 through June 30, 2022.
Your dues must be paid in full on or before Saturday, July 31, 2021 to avoid a $50.00 late fee.
With DAAR, you have many services, tools, and resources at your disposal.  Click here to learn about your member benefits.  The image below illustrates how your DAAR dues are reinvested those services and tools to help you succeed as a REALTOR®: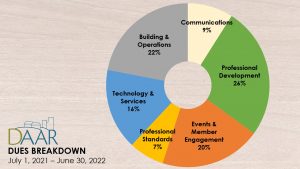 Additional information regarding your dues invoice, including optional contributions for RPAC, can be found here.
 If you have any questions regarding your invoice, please contact membersvc@dullesarea.com.