Loudoun Board Votes on Airport Noise Disclosure Requirements
Loudoun County's Board of Supervisors voted to make notifications of the Dulles International Airport's fifth runway plan mandatory for people looking to buy homes in that area. 
At the June 15, 2021 vote, members of Loudoun's Board of Supervisors addressed the findings of the 2019 noise study. Amid discussions of a possible fifth runway coming to the Dulles International Airport (IAD), an area south of Arcola Mills Drive and west of the Loudoun County Parkway is expected to be placed in the loudest noise category in Loudoun Ordinances, 65 Ldn (Loudness Day-Night area), should the plan come to fruition.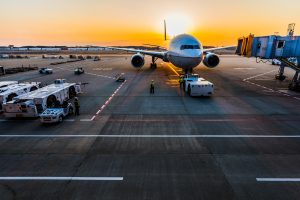 However, the Board voted to place this area in the 60-65 Ldn category, which would permit residential development. The members also voted to require residents/future residents who are buying homes in that area to be notified of IAD's plans for a fifth runway which could increase noise levels around those homes. Officials from the airport have already warned of the complications that could arise by allowing homes to be built too close to the runways. 
Supervisor Letourneau expressed his belief in maintaining transparency and consistency in the process, stating, "[i]n the interest of transparency, I think we should keep that requirement uniform around the airport impact overlay district."
Supervisor Buffington also offered his remarks, explaining how, "[a]s long as that [a fifth runway]'s part of their plan, I don't think we should do this. I think it's the most reckless thing we can do." 
Other members mentioned that allowing homes to be built in the 65+ Ldn area would "sell tomorrow," given the current state of the housing market and how quickly homes are selling in Loudoun County. Chair Randall even stated, rhetorically, "who am I to tell somebody 30 years from now, some grown adult people, you can't buy a house because of the airport there that you see and that you acknowledge?"
There have been ample concerns about the values of homes built within the Airport Impact Overlay District, especially if noise notification requirements are made mandatory for new homes built within its parameters. While one member of the Board mentioned that such requirements do not seem to affect prices in Loudoun County, some literature suggests that there is a positive correlation between airport proximity and home values. 
For example, in a study by the Federal Aviation Administration (FAA) and Booz Allen, they found out that the noise impact is more pronounced in higher-priced areas and is hard to detect in relatively low-priced neighborhoods. However, the magnitude of this impact varies by airport.
Lastly, Sup. Leatourneau's motion to restore the one-mile buffer requirements ultimately failed by a vote of 4-5. Now, the project to implement the noise maps will enter a study period and a Zoning Ordinance Amendment afterward.
***
Dulles International Airport has been working with local governments in the surrounding area to provide the updated noise contour maps. The final, updated version of the 2019 Dulles Contours (as presented to the public and local government) can be found here.
To view the proposed Airport Impact Overlay District, please click here.
For questions, reach out to DAAR's Government Affairs Director.
June 28, 2021