October 2021: Market Indicators Report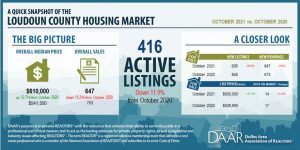 Click here for the full October 2021 Loudoun County Market Indicators Report for the Dulles Area Association of REALTORS® by Virginia REALTORS®.  
Key Market Trends
Fewer home sales in Loudoun County compared to last year, activity moderating in most local markets.
There were 647 sales in Loudoun County in October, 116 fewer sales than last year, which is a 15.2% decline. This is the third year-over-year decrease in four months and reflects a broader market deceleration across the region. At the local level, the largest drop in sales occurred in Leesburg zip code 20176 (-30.8%) and Leesburg zip code 20175 (-26.3%). Sales activity was also down 23.6% in Aldie zip code 20105 compared to last October.

Pending sales activity continues to moderate.
There were 647 pending sales in Loudoun County in October, which is 26 fewer than last year, representing a 3.9% decline. Pending sales have been trending down for four consecutive months in the county. The sharpest slowdown was in Purcellville zip code 20132 (-47.6%), and Lovettsville zip code 20180 (-17.6%). Ashburn zip code 20148 had a large influx of pending sales this month compared to last year (+55.4%), the strongest year-over-year growth in the county.

Prices continue to surge in Loudoun County at a double-digit rate in most local markets.
The October median sales price in Loudoun County was $610,000, which is $68,5000 higher than it was a year ago (+12.7%). The strongest price growth this month was in Ashburn zip code 20148, where the median sales price jumped up by more than $107,000 from last October (+18.7%). Price growth was also strong in Leesburg zip code 20175 (+17.5%) and Chantilly zip code 20152 (+13.9%).

Inventory shrinking again, fewer new listings on the market.
At the end of October, there were 416 active listings on the market in Loudoun County, 56 fewer listings than a year ago, which is an 11.9% decrease. For the third straight month, there were fewer new listings in the county than a year ago (-18.0%).