Q4 2021: Market Indicators Report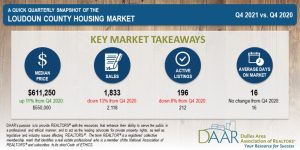 Click here for the full Q4 2021 Loudoun County Market Indicators Report for the Dulles Area Association of REALTORS® by Virginia REALTORS®. 
Click here to download supporting graphics.
Key Market Takeaways
Economic Conditions
Economic conditions in Virginia continued to improve in the fourth quarter, with broad-based job gains and another drop in the unemployment rate. The employment picture also improved in the Dulles area. The Loudoun County unemployment rate fell again and reached pre-pandemic levels.
Despite steady economic progress, consumer confidence remains weak, as individuals and families face rising prices and a surge in COVID-19 cases. The measure of expectations of future economic conditions fell to a 16-month low in December 2021.
Mortgage rates began to tick up at the end of 2021. Persistently high inflation will prompt the Federal Reserve to raise the federal funds rate in 2022, which will push mortgage rates even higher in the months to come.
Housing Market Conditions
There were 1,833 sales in the Loudoun County housing market during the fourth quarter. Sales were down 13% from a year ago, a decline of 285 sales.
Home prices continued to rise quickly throughout the county. The fourth quarter median sales price was $611,250, which is 11% higher than a year ago, a gain of more than $61,000.
Inventory is historically low in Loudoun County. There were just 196 active listings at the end of the fourth quarter, a decline of 8%, or 16 fewer listings.