May 2023: Market Indicators Report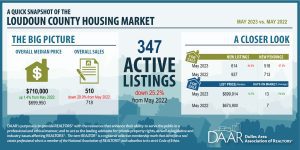 Click here for the full May 2023 Loudoun County Market Indicators Report for the Dulles Area Association of REALTORS® by Virginia REALTORS®.
Key Market Trends
Sales remained sluggish this month in Loudoun County.
In May, there were 510 sales in the County, down 29% from a year ago, which is 208 fewer sales. Most local markets had a dip in sales with Ashburn zip code 20148 experiencing the biggest drop with 35 fewer sales (-27.8%) and Leesburg zip code 20176 with 32 fewer sales than last year (-35.6%). Lovettsville zip code 20180 had a slight increase in sales activity with four more sales compared to a year earlier (+40.0%).

Pending sales decreased in May compared to last year, signaling continuation of slow market conditions.
There were 518 pending sales countywide this month, 195 fewer pending sales than the previous year, a 27.3% decline. Leesburg zip code 20176 had 35 fewer pending sales (-42.7%) and Chantilly zip code 20152 had 30 fewer pending sales compared to the same time a year ago (-42.3%).

Prices in Loudoun County had a modest increase this month.
The median sales price was $710,000 in May, up just 1.4% from the same time last year, a $10,050 increase. The markets where prices gained the most were in Purcellville zip code 20132 (+22.0%), Leesburg zip code 20175 (+21.6%) and Chantilly zip code 20152 (+17.3%).

Supply remains tight with fewer listings on the market in Loudoun County compared to last year.
There were 347 active listings in Loudoun County at the end of May, 117 fewer listings than the year before (-25.2%). Listings fell in Ashburn zip code 20147 with 42 fewer listings (-60.0%) and in Sterling zip code 20164 down 13 listings from last year (-34.2%). Leesburg zip code 20175 had a slight uptick in active listing this month (+7.9%).

Data Note: The housing market data for all jurisdictions in Virginia was re-benchmarked in November 2021. Please note that Market Indicator Reports released prior to November 2021 were produced using the prior data vintage and may not tie to reports that use the current data set for some metrics. We recommend using the current reports for historical comparative analysis.