September 2021: Market Indicators Report
September 2021: Market Indicators Report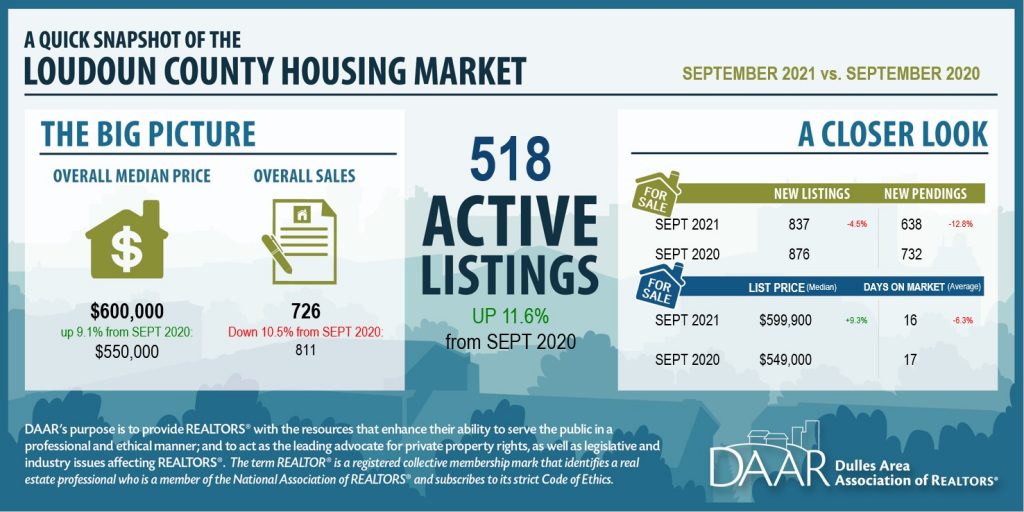 Click here for the full September 2021 Loudoun County Market Indicators Report for the Dulles Area Association of REALTORS® by Virginia REALTORS®. 
Key Market Trends
Market cools in Loudoun County, sales down from last year.
There were 726 sales in the county in September, which is 85 fewer sales than a year ago, a 10.5% decrease. This is the second decline in three months, and the sharpest drop since May 2020. While part of the decrease can be attributed to higher than normal sales last September, market activity has been slowing in the county and many parts of the state in recent months. Many local markets in the county had fewer sales, notably Aldie zip code 20105 (-46.2%), Purcellville zip code 20132 (-41.0%), and Chantilly zip code 20152 (-26.1%).

Pending sales fall for the third straight month.
There were 638 pending sales in Loudoun County in September, 94 fewer than a year ago, which is a 12.8% decline. Pending sales were also down from August which is typical for this time of year. The Leesburg market was notably slower this month. Leesburg zip code 20175 had 22 fewer pending sales, and Leesburg zip code 20176 had 28 fewer pending sales than last September. Ashburn zip code 20148 had 19 fewer pending sales than a year ago.

Home prices are rising rapidly amid market slowdown.
At $600,000, the median sales price in September in Loudoun County was $50,000 higher than last year (+9.1%). Even with fewer sales, upward pressure on prices continues to be a big factor in the market which is being driven by low inventory levels. At the local level, the strongest price growth this month occurred in Leesburg zip code 20176 (+24.9%), Purcellville zip code 20132 (+16.9%), and Chantilly zip code 20152 (+15.3%)

Supply in the Loudoun market has increased, though new listings down again.
At the end of September there were 518 active listings on the market in Loudoun County, 54 more than a year ago (+11.6%), the second straight inventory increase. New listings declined 4.5% this month, the second straight decline.

Visit or Market Reports Library; there you'll find Legacy Reports of Loudoun County housing statistics since 2000, including sales price by month.

Want to share on your social media pages?
Click a platform below to share!