DAAR 2022-23 Membership Dues Invoice Available for Payment
Your 2022-2023 DAAR REALTOR® dues invoice is now available for payment in your DAAR member portal.  This invoice includes Local, State, and National membership dues for DAAR, VAR, and NAR.
Your local, DAAR REALTOR® dues pay for your membership beginning July 1, 2022 through June 30, 2023.
Your dues must be paid in full on or before Friday, July 29, 2022 to avoid a $50.00 late fee.
With DAAR, you have many services, tools, and resources at your disposal.  Click here to learn about your member benefits .  The image below illustrates how your DAAR dues are reinvested those services and tools to help you succeed as a REALTOR®: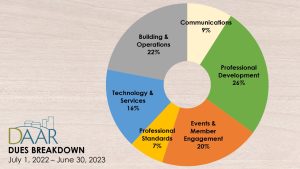 Additional information regarding your dues invoice, including optional contributions for RPAC, can be found on our dues page.
 If you have any questions regarding your invoice, please contact membersvc@dullesarea.com.