Continuing Education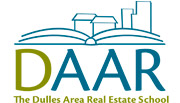 The Dulles Area Association of REALTORS® Real Estate School is dedicated to meeting the needs of your professional development by offering more classes and seminars designed to give you the resources and knowledge to stay on top of your business.
Sales Agent/Broker CE – DAAR's courses are designed to fulfill all 16 required hours within 2-days, and 24 hours for brokers within 3-days.  Register today!
NAR's Ethic Requirement – Learn about the two-year cycle and how to stay in compliance.
FREE CE – We are pleased to offer in-classroom courses*  for active REALTOR® members!    *Please note that online courses, designation, and special seminar/events are excluded.
Online Education – DAAR is pleased to partner with online schools that can assist with completion of required credits and acquiring D.C. and Maryland licenses.
Check Your Credits – This link to VREB allows you to enter your license number or name to search for credits completed or still needing to be completed.
Upcoming Classes – Check out DAAR's Event/Education calendar and register for classes.
Instructor Info – From Tips & Tricks, call for proposals, speaker guidelines, speaker FAQ's to instructor training.  You will find it all here.
Check out the School Policies for more information.
Questions?  Please contact:
Teresa Kirkhart
Professional Development Director &
Professional Standards Administrator
Direct Line:  571-291-9805
mailto:tkirkhart@dullesarea.com