REALTOR Recharge Conference & Expo
REALTOR Recharge Conference & Expo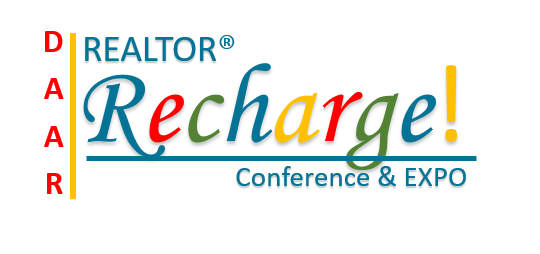 October 25, 2018
The 2018 REALTOR® Recharge:  DAAR Conference & Expo will bring together more than 180 real estate professionals, affiliates and expert speakers at one exciting event!  Don't miss the unique opportunity to take advantage of educational classes, hot-topic sessions, DAAR's annual meeting membership update and elections, a best-in-real estate services expo, prizes and more!
HOME     REGISTER     SESSIONS      DIRECTIONS
Top 5 Reasons to Attend
Connect with REALTORS®
Educational Offerings
Get up to date on industry trends
Find business solutions
Opportunity for Charity Donation
Registration includes breakfast & lunch
Member: $15
Nonmember: $30
Affiliates: $250
Location:  Embassy Suites Dulles, 44610 Waxpool Road, Ashburn, Virginia 20147.
Breakfast/Registration:  8:00 a.m. – 9:00 a.m.